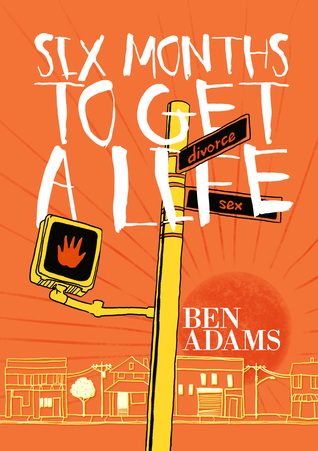 If interested in discovering a new book to read? Check out my review and more at
Ingrid Hall
.
Reviewed by Carlton Rolle
Ben Adams went to grade-school, then college, and eventually grew up. With that, he got a responsible job, house, and a family. As time went on he had a mid-life crisis. Thinking that life was becoming too serious, Ben took up writing. First he wrote for his kids, but eventually began writing for adults. He writes for people who have lived, loved, worked, strived and suffered – people like himself. He finds humor where others just find pain. Currently Ben lives in London with his two boys, his dog, and constant stream of girlfriends.
The story follows Graham, a 42 year old recent divorcee. After 15 years married, two sons, and a dog, the couple decides to call it quits on their relationship.  Graham leaves out of the family home and moves in with his parents.  In a moment of reflection, Graham points at places where he has went wrong in life. He decides to get his life in order before his 43rd birthday.
One of the first goals that Graham had was to move into a place by himself. Living with parents at any time can be challenging. Graham sought to find a flat that worked with his son's routine and places he wanted to be around. Throughout the entire book, Graham is most concerned with his sons Jack and Sean. Graham always did plenty of things with his sons, so he thought continuously of ways to interact with the boys.
Another area that Graham wanted to work on was his love life. He starts by meeting up with his buddies in neighborhood pubs. Though they don't really help much in his troubles, they give him an outlet to relax with. Graham also attends several dinner dates with couples that he knew mutually with his ex-wife. Though somewhat successful, Graham meets a woman named Julia. After she makes a move on him, they have a one night stand.
While working towards a different quest towards is getting in shape, Graham takes his dog Albus on a walk. During one of their walks, he meets Amy. Amy is recently divorced herself. While discovering their interest in one another, they take their time to show their emotions. Both interactions with women after Graham's marriage helped him gain better perspective of who he was and what he wanted from life.
Graham also decides that he needs to change his boring desk job. As a sign itself, his company undergoes restructuring and he finds out he will be stacked. He puts greater energy into refreshing his resume and applying to jobs. Eventually he secures a job that easily replaces his former company.
In the book Graham informs readers through diary format. It gave readers a clear perspective to be able to connect with and understand why people do certain things. In Graham's case, he learns the depth of companionship and love. He reconnects with living for a brighter future for his sons and sharpens his self-confidence. Ultimately Graham sought and claimed a portion of his worth in life after a divorce.
For more information about Ben Adams, visit http://blog.benadamsauthor.com.